Are you a rising 4th-6th Grade Student
at any of our Mālama Afterschool Sites? 
Join us for a
 Nā maka o kā I'a (The Eyes of the Fish) Summer STEAM Day Camp!
          An Intro to Science, Technology, Engineering, Art, and Mathematics at the beautiful, ancient Waikalua Loko I'a (Fishpond!) 
June 1-12, 2020
8:00 a.m.– 12 noon 
Activities
Making fishing poles
Practicing fishing techniques
Gardening with native plants using composting and irrigation systems
Marine science activities including water quality testing, identifying and counting species
and
Field trip for a Tour of Windward Community College and the Hokulani Imaginarium!
Brought to you from a collaborative community partnership!
Malama 21st is a project of Pacific American Foundation, a Native Hawai'ian Organization, recognized by Hawai'i Governors since inception. –§9212 of the Native Hawaiian Education Act (20 U.S. 7912)
---
Underwritten through a grant from the Hawai'i Department of Education as part of the 21st Century Community Learning Center Program
---
Mahalo to Windward Community College for field trip activities and college tour!
---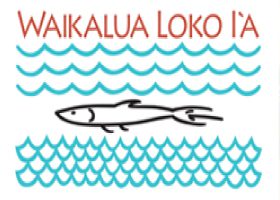 At PAF we look to the past to chart our way forward.  We aare thankful for the challenges, opportunities, blessings, and accomplishments of the many that make up our 'Ohana. We try always to reflect the wisdom of our ancestors, and be inspired to seek positive ways of moving forward while being mindful of our history and Kuleana (responsibility).
The restoration of Waikalua Loko in 1995 has allowed us to build new bridges of opportunity for learning that foster our rich culture and embrace the best of the 21st century. Our beloved loko i'a has since become a "piko" for our programs, partnerships and innovations for Hawaii.  O ke kahua mamua, mahope ke kukulu; the foundation first and then the building! Mahalo for your continued support. Please consider joining us as we continue towards a future that meets the need of our community one heart, one mind, and one soul at a time!
-Herb Lee, Jr., CEO and President